We started Global Perspectives knowing there's a better way to help our clients.
We provide expert counsel in corporate strategy, post-M&A support, and performance turnarounds, while doing it in a way that challenges assumptions on how consultants work.
We started with an innovative operating structure that joins together a global network of independent consultants and expert firms to deliver a breadth of industry and regional expertise that's unmatched by other boutique firms. Our infrastructure is lean and our overheads low. We staff each project to meet specific client needs, without the pressure to address skill limitations or attain billable hour targets. This gives us the freedom and flexibility to tackle only the topics we are most passionate about, to focus on only the clients we believe in, and to only take on projects when we feel we can trigger a sustainable transformation for the business as well as the organization.
We cater our services to specific client needs, always with the recognition that strategies that have worked in the past don't always work in a business climate that is increasingly more dynamic, social and innovative. We look beyond general practices, methodologies and industry knowledge, digging deep into our client's business to generate fresh solutions and new opportunities specifically for them. We have the freedom to do consulting work based on research and analysis of each client's specific situation and we let that drive the solution, rather than the traditional consulting approach of following the shortest path to prove or disprove hypothesis developed by or for other clients.
What does this mean for our clients? We can deliver a targeted team for a fully customized solution. We can promise passion, innovation and collaboration – and a commitment from us that we don't look at your project as a door to more work, but an opportunity to help your team become self-sufficient.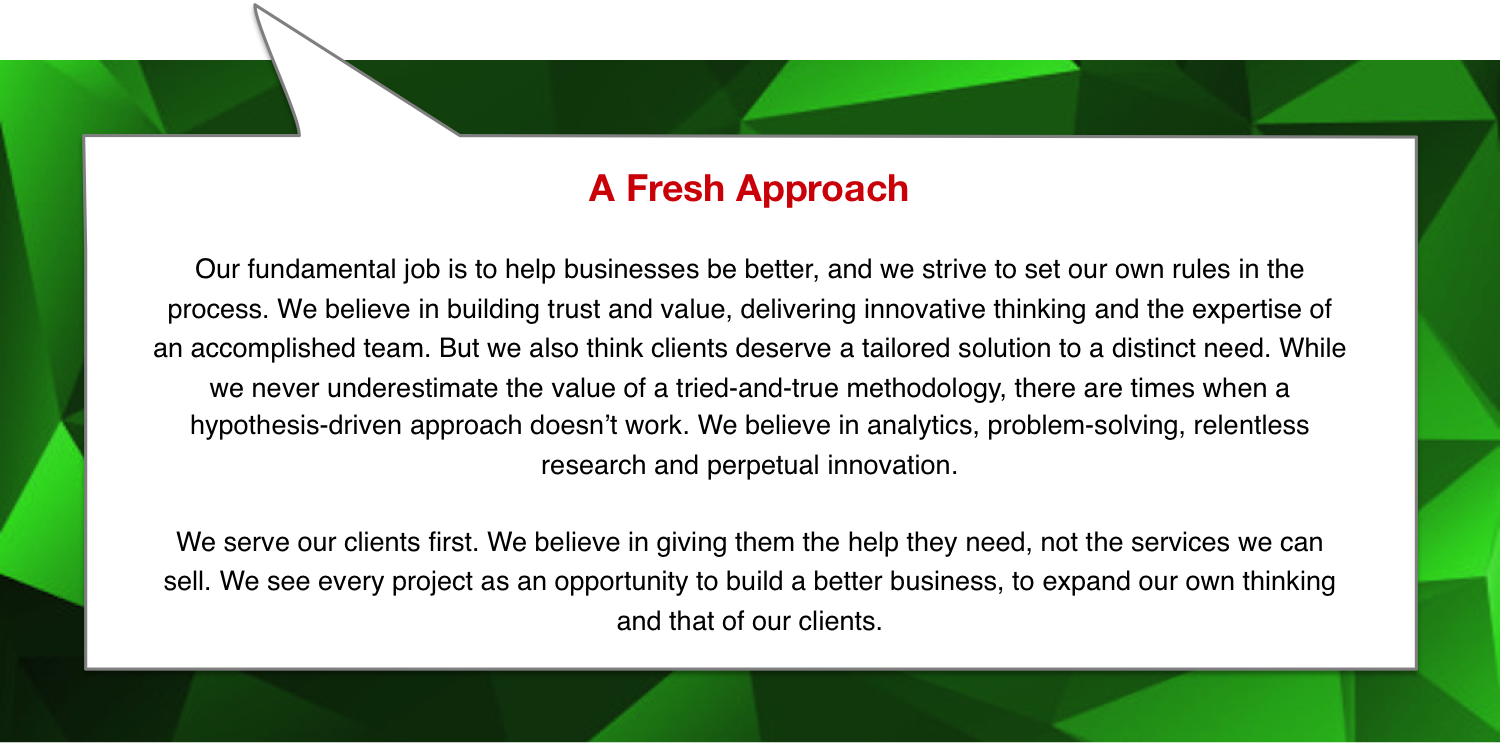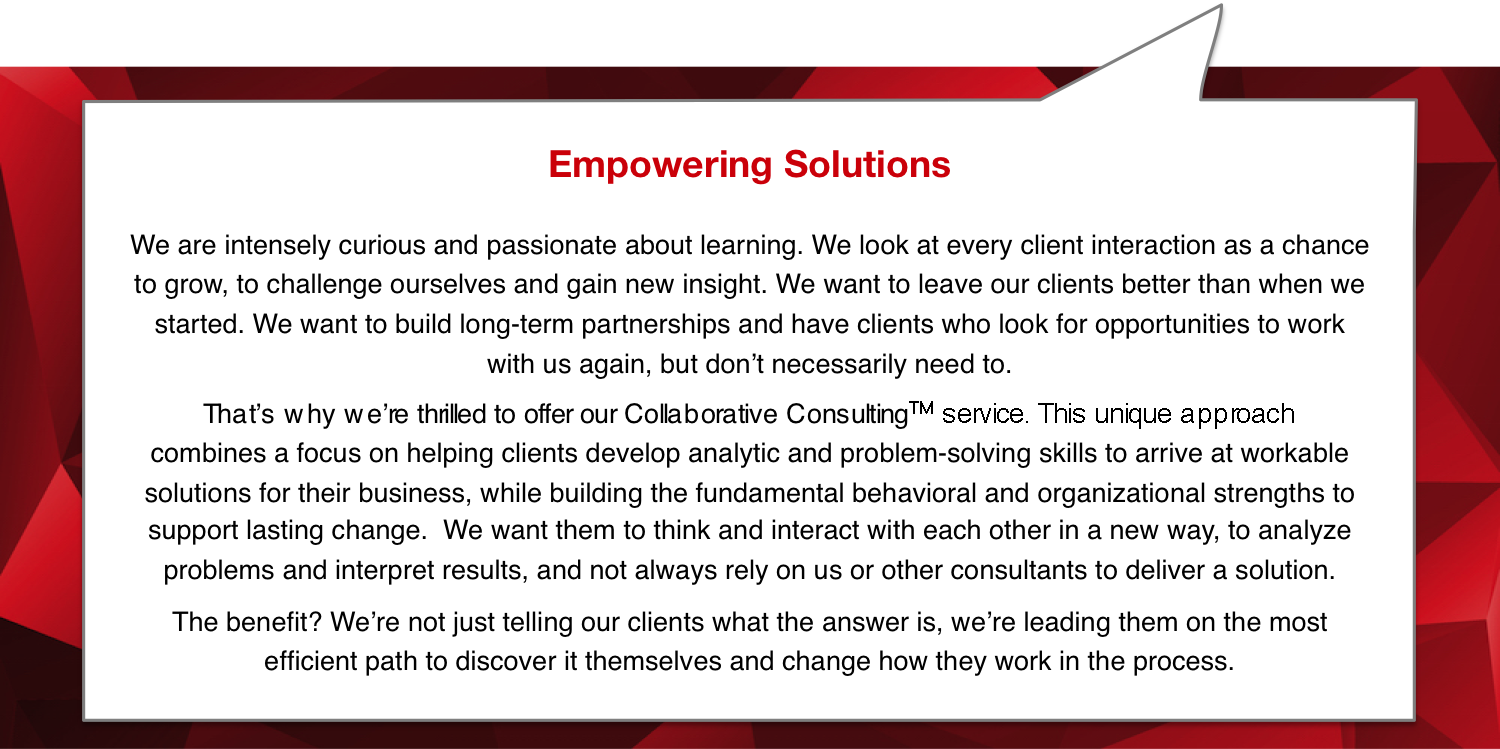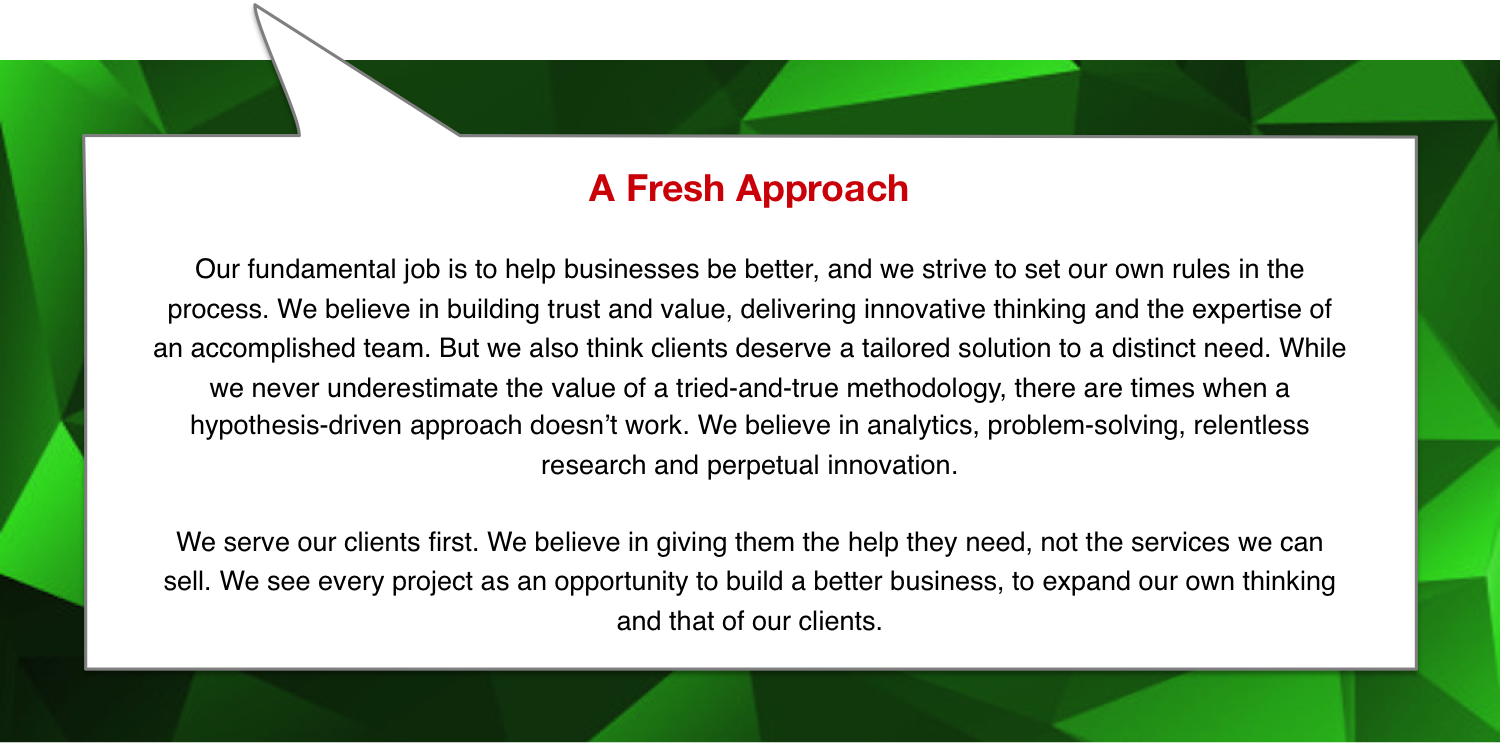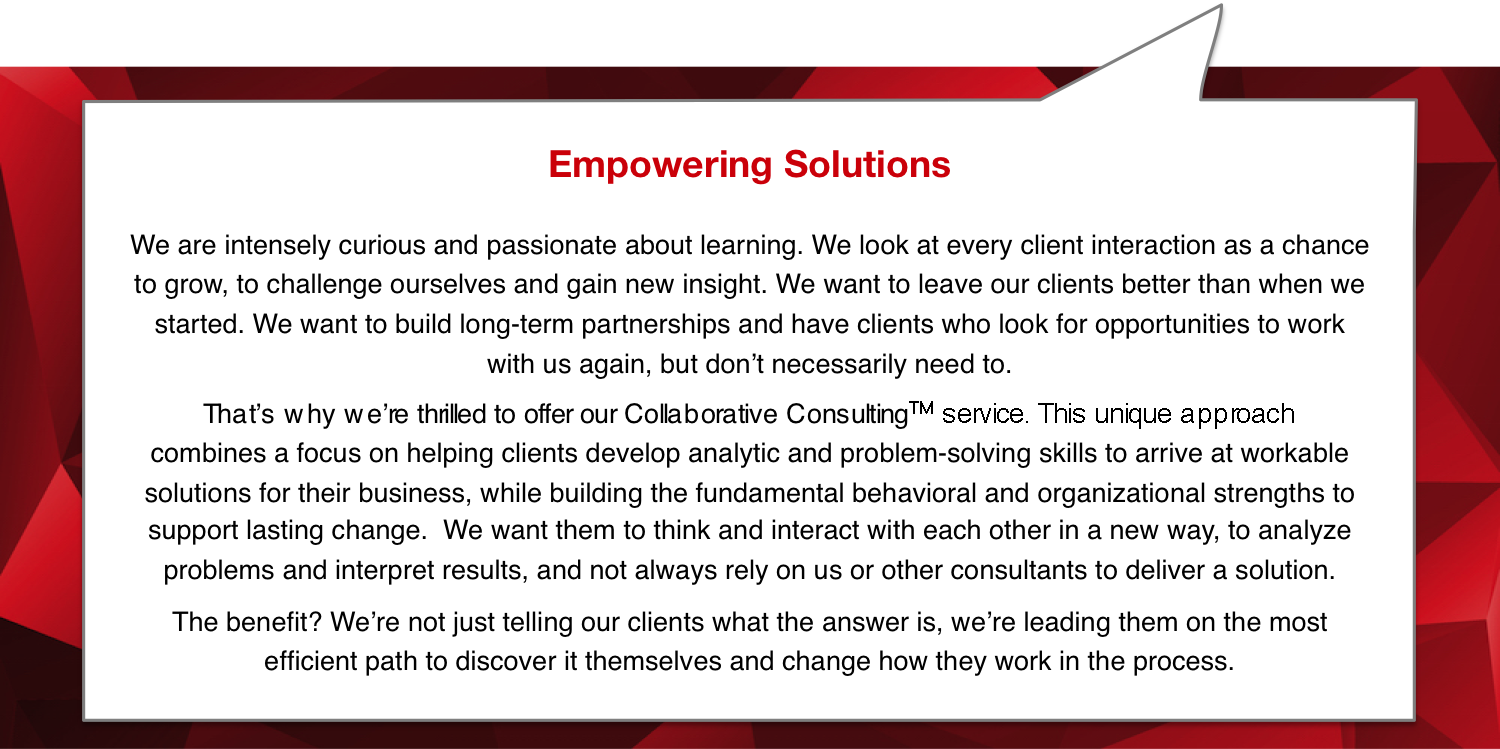 Our fundamental job is to help businesses be better, and we strive to set our own rules in the process. We believe in building trust and value, delivering innovative thinking and the expertise of an accomplished team. But we also think clients deserve a tailored solution to a distinct need. While we never underestimate the value of a tried-and-true methodology, there are times when a hypothesis-driven approach doesn't work. We believe in analytics, problem-solving, relentless research and perpetual innovation.
We serve our clients first. We believe in giving them the help they need, not the services we can sell. We see every project as an opportunity to build a better business, to expand our own thinking and that of our clients.
We are a global firm. Each member of our team brings a unique perspective and portfolio of geographical and industry expertise. But we don't work in silos. Rather, we collaborate and partner to bring our clients not only the best knowledge from around the world, but the strengths and synergies of an established team. We are thrilled by the opportunity to cross-fertilize ideas to provide the broadest perspective for our clients. We share ideas based on best practices and creative solutions from all over the world.
We bring this perspective to every engagement, knowing that knowledge gained in a different industry, even across the globe, can provide valuable insight to a need at home.
We are intensely curious and passionate about learning. We look at every client interaction as a chance to grow, to challenge ourselves and gain new insight. We want to leave our clients better than when we started. We want to build long-term partnerships and have clients who look for opportunities to work with us again, but don't necessarily need to.
That's why we're thrilled to offer our Collaborative Consulting™ service. This unique approach combines a focus on helping clients develop the analytic and problem-solving skills to arrive at workable solutions for their business, while building the fundamental behavioral and organizational strengths to support lasting change. We want them to think and interact with each other in a new way, to analyze problems and interpret results, and not always rely on us or other consultants to deliver a solution.
The benefit? We're not just telling our clients what the answer is, we're leading them on the most efficient path to discover it themselves and change how they work in the process.